Pacific Coast Jellyfish Seascape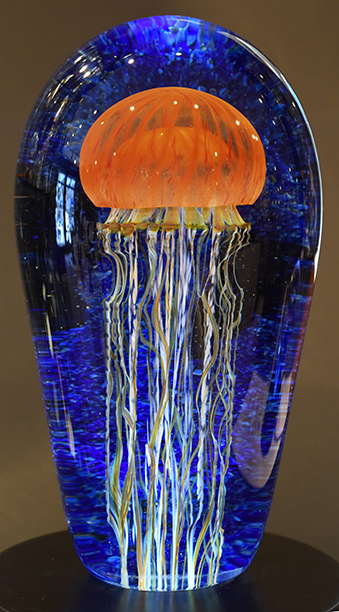 One of a kind, hand blown glass sculpture
Sculpture Size: 7.5" X 4"
This particular jellyfish sculpture has a beautiful orange ribbed dome. Under the dome is a brown and gold band with an array of white tendrils surrounded by thin and wispy colorful tendrils. Each original handmade sculpture is a one of a kind piece. No two sculptures are alike.
The Seascape background is a new addition to our jellyfish series. Not only does this piece have our beautiful, handblown Pacific Coast Jellyfish, but they have a flat back with a mottled blue background that gives the impression of being under the sea (this background is handcrafted making no two alike). They look exceptional on and off a light base.
---